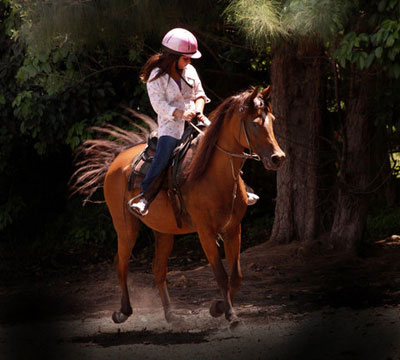 First Time Riders
I took my son and daughter to American Horse Riding today …first time riders…and it wasn't just horseback riding; we had such an AWESOME experience. They really did cater to our own level of comfort with the horses and then taught us so much about how to ride which made us even more comfortable….we had a lot of fun! Herb, Ashley,… and everyone… thank you so much!! We will be back soon!!!
A great place to take your family…
or just your self for a fun activity to do. I know I have gone and also gone with my kids and it is the best place I have ever been to. They treat you so good and Herb he is great. I can't wait to do it again.
Happy Birthday It Was!
I booked this adventure for my boyfriend's 39th Birthday. I am not one to pull the trigger quickly when putting together an event. I do my research. The saying "you get what you pay for" was my motto while researching. Well, I feel I got more than what I paid for. That was pleasant surprise. Herb was excellent. Everything he said prior to reserving this adventure with him, was true. I am inexperienced at riding and my boyfriend more experienced than I. Herb made sure he was true to his word in regards to both of us having a blast. My boyfriend had an erasable smile the entire two hours. I chose not to book the hour because it's just not long enough. I was going to book the three hour and thought it would be too long. Needless to say, on the way back from the two hours…I was sad we were almost done. That is how much fun we had. We are most definately riding again…and wouldn't even think of going with anybody but American Horse Riding,Thanx Herb
A Wonderful palce to go.
I loved it!!!!!!!! As soon as my family and i walked in we were greeted and asked if we wanted anything to drink. My husband and I were given a 15 minute lesson before going on are trail. We had originaly came for a 2hr private trail ride, but enjoyed it so much and went for the 3hr trail ride instead. We paid the difference gladly and when we got back we got to have a BBQ with Herb Garcia. That was included in the 3hr trail that we bought. I recommend this place to everyone. I have already told my husband that we will be doing this at least twice a month, and i am signing up my kids for lessons.
Worth every penny-Pure Exhilaration!
My husband and I wanted to "really ride" and not get stuck with a boring trail – walk. Herb greeted us and within minutes my husband was having a quick lesson and we were on our way. Herb was so giving with his horses, his riding knowledge and his excitement for riding these beautiful Arabians was so contagious. We walked a bit, trotted and then the exhilaration of cantering as much as we wanted was amazing. Herb had our and his loving horse's safety in mind but at the same time our enjoyment was extremely important to him. We stopped by a huge pond where the horses drank and we took in the beautiful sights of butterflies, fish, halks and a bald eagle! We returned ready flop down to bar-b- which Vivian served as though we were family. This is a great find for locals, vacationers and children can take fun lessons too! We are so happy to have found American Horse Riding!
Words cannot describe the fun I had riding at American Horse Riding!
Herb (the owner) is such a pro, his horses are first class -gorgeous and very well trained Arabians and you will have fun fun fun riding here. Other barns I've found are the lamest walking rides with neverending rules of what you CAN'T do. Their goal here is to let you have fun, safely, and to teach you a thing of two about riding as well. Great for any skill and a must do for locals or visitors. But whatever your skill level, this barn is a must do while living or visiting south florida